The past 12 months or so have essentially been a pressure cooker for the modern workplace.
Changes in approach and perspective that had been bubbling away for years were suddenly subjected to an accelerated change of state.

This rapid and irreversible transformation process has laid the foundations for the future of work, and has seen most business communications and IT levelling up for the better.
But even more prevalent than this has been the sea change in attitudes regarding flexible working practices.
Most businesses needed to adopt digital transformation and remote working practices to keep their business afloat throughout persistent national lockdowns.
But the question that remains now is: what comes next?
With the world (and particularly the UK) reaching a crossroads in their progress, and with strategies beginning to form for the years ahead, we thought this would be the opportune moment to gain some authentic ground-level insight into how small businesses are preparing for the future of work.
In collaboration with Censuswide, NFON UK recently carried out a survey of 500 small businesses across the country to see how they coped with the challenges of 2020 and beyond, and what trends and behaviours are affecting their plans for the future.
Remote working and pre-pandemic perspectives
Of the 500 businesses we surveyed, just under 50% of them claimed to encourage remote working prior to the pandemic.
When asked, "If you didn't encourage remote working prior to the pandemic, why not?", the most popular response was that they felt working as a team was important (50%), and were concerned that remote working could negatively impact their capacity for effective teamwork.
The second most commonly cited reason for not encouraging remote working was not having the right technology to make it a success (32%).
17% of our respondents admitted that they simply did not trust their staff to work remotely, presuming that they would naturally work harder in the office than at home.
A grand shift in perspectives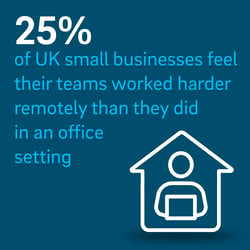 As one might expect, our survey revealed a change in these attitudes, as businesses were forced to adapt to the 'new normal', and embrace more flexible modes of work to keep things moving.
33% of small business owners claimed to be 'pleasantly surprised' by the success of remote working, while 26% felt it enhanced their team spirit, and 25% believed that their team actually worked harder from home than they did in the office.
Interestingly, 20% of respondents even stated that they felt anxious about returning to the office, for fear that it could negatively impact their newfound productivity.


"The shift to hybrid-working has been steadily growing over the last decade, but the pandemic has acted as a catalyst by bringing it to every business across the UK. Companies that had been culturally adverse in the past had to make the shift, and they have seen first-hand a host of benefits"

- Myles Leach, MD, NFON UK
The key benefits of remote working
Across all of our survey responses, these were the top-listed benefits of remote working...
Reduced company expenses

Less absence and sickness

Positive environmental impact

Increased staff wellbeing
Changing concepts of 'the office'
With millions of employees around the world proving their productivity outside of the office, national lockdown measures inspired many business leaders to take a step back and assess their needs and overheads.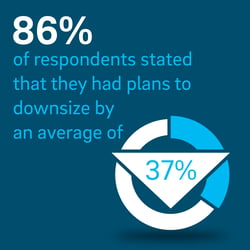 While a third of our survey respondents expect to stay in their existing office, many others expressed a desire to make a permanent change. When we asked specific questions about space requirements, 86% of respondents had plans to downsize the space needed for their staff by an average of 37%.
17% of respondents believe they will become completely remote moving forward, while over 20% collectively expressed desires or plans to move location, with more than half of respondents in this segment expecting to move to a smaller and cheaper space, or shared offices.
"As we look ahead, the hybrid-working shift has the scope to democratise the world-of-work; levelling the playing field so that location or family commitments no longer mean you cannot apply for and secure a dream job."

- Myles Leach, MD, NFON UK
Democratising the future of work
For the jobs market, this global shift in working models represents a pivotal change in both the expectations that jobs candidates have of prospective employers, and the ways in which recruiters go about acquiring talent.
There is more scope than ever to democratise the world of work, with location and family commitments presenting much less of a hurdle to candidates looking for their dream jobs, and employers in search of the best and brightest.
In addition to the research carried out by the team at NFON, a wide spread of other studies and sources indicate that behaviours and attitudes are changing, for both recruiters and candidates alike.
Changes for employees
In a survey by Prudential, an overwhelming 87% of adults who had worked from home during the pandemic desired the ability to continue doing so once things have returned to normal.
Statistics also show that employees who aren't having their needs for flexibility met aren't afraid to look elsewhere for them.
1 in 4 workers in the US are currently looking for a new employer, and among this segment the vast majority are doing so out of a desire for more flexibility.
Changes for those hiring
Widespread hybrid working practices are also changing the world of HR and recruitment.
Talent acquisition is becoming an ever more specialised, data-driven process, unrestricted by questions of location.
According to a press release from Vettery, opening roles up to location-agnostic candidates has allowed employers to increase the number of top applicants by 85% in some cases.
In their remote work hiring trends report, Vettery also found that candidates are increasingly looking for remote opportunities. 51% of new candidates were open to working remotely in October 2020, compared to just 35% 7 months before.
'The key for small businesses is to ensure that they have the processes and technology in place to enable seamless collaboration and communication, so that home working colleagues feel just as much a part of the team'

- Myles Leach, MD, NFON UK
Digital transformation trends
Just under half of SMEs in our survey agreed that the pandemic had increased their investment in digital transformation.
35% identified their level of investment in digital transformation following COVID-19 as 'somewhat' of an increase, while 14% claimed their investment in digital transformation to be a 'significant' increase.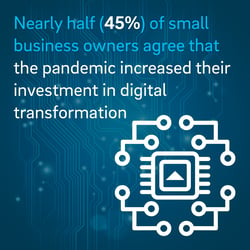 But what's more noteworthy than the amount of businesses who upgraded their IT and communications to survive, is the amount of businesses who are continuing to plan their technological investments for the future.
Many leading commentators (including the aforementioned McKinsey) have speculated that COVID-19 has moved businesses towards "a technology tipping point" that has irreversibly accelerated the pace of transformation.
The rise of collaboration tools
An incredible 98% of businesses are now using at least one team collaboration tool, if not a technology stack comprising several.
Currently, Microsoft Teams is dominating this heightened adoption of remote collaboration tools, with 90% of UK businesses benefiting from its channel-based communications and videoconferencing capabilities.
What's interesting to note is that among the businesses that are making use of MS Teams, 50% of them use it for both customer-facing and internal communication.
Overall, this is a strong indication that more businesses are integrating their operations and generally leaning towards more seamless, joined-up processes and systems.
Adoption trends around Unified Communications are testament to this – 84% of companies that aren't already using Unified Communications are planning on implementing it in the near future.
Looking to the AI-driven workplace
25% of our survey respondents stated that technology was to be their key area of strategic investment moving forwards.

And indeed, many of our other survey results pointed towards an AI-driven future.
44% of teams believe their workers are ready for AI technologies – such as machine learning, robotics, voice recognition, natural language processing – while 39% of respondents stated that they didn't feel ready yet, but they would be investing in AI-related staff training.

48% of UK small businesses state they already have plans to deploy AI technologies.
With global AI investment anticipated to reach £150 billion by 2025, and the likes of KPMG stating that traditional businesses have more to gain from it than digital-first organisations, it is certainly an area for businesses to keep their eye on.
Final thoughts
While much of the changes anticipated to shape the future of work are yet to materialise, it is clear that there has been a fundamental change in attitudes and perspectives in the workforce.
More employees are demanding the freedom to work anywhere, and more employers are getting better at managing it in an effective way that supports better collaboration.
It seems clear that UK businesses both small and large want communications that allow for more intuitive and flexible functionality, without compromising on the safety and security of their operations and business data.
Now more businesses have the plans and aspirations to improve their systems, the main strategic consideration is what they need to invest in in order to make these objectives a functioning reality.